DRIVE-IN MANITOBA FISHING LODGE

LONG LAKE, MANITOBA CANADA

FISHERMAN'S GETAWAY
This package includes:
Cabins: Kitchen, living room area, 2 bedrooms, double and single bed in each room
microwaves
indoor plumbing
Central shower
Gas BBQ,
Cell service
Free Wireless internet
Satellite TV's
Bedding and cooking utensils supplied in all cabins (bath towels are not included)
​L.H.K Cabin - $165.00 per night (max 4 people ) CDN Funds (taxes not included)
Boat and Motor Rental - $80 per day (fuel extra) 14-16 foot LUND boats with 9.9 HP Yamaha motors
CDN Funds (taxes not included)
HIGHLY RECOMMENDED

Just a Day Guided Trips:
$700 CND/day (2-4 people) includes shore lunch - when renting a cabin.

$800 CND/day (2-4 people) includes shore lunch- without renting a cabin.
Call for pricing for 5 or more people.
Bring your clients on a fishing trip to remember.
Fishing is comparable to any fly-in or even better!
BOOK IT!
Manigotagan River Canoe Route starting point @ Windsock Lodge Long Lake, MB
Contractors - Please email or call for rates.
GIRLS GONE WILD FISHING TRIPS!
Who says girls can't have fun fishing and experiencing a great wilderness adventure? Girl groups are always welcome!!
Please email or call for rates.
CANCELLATION POLICY
Deposits are non-refundable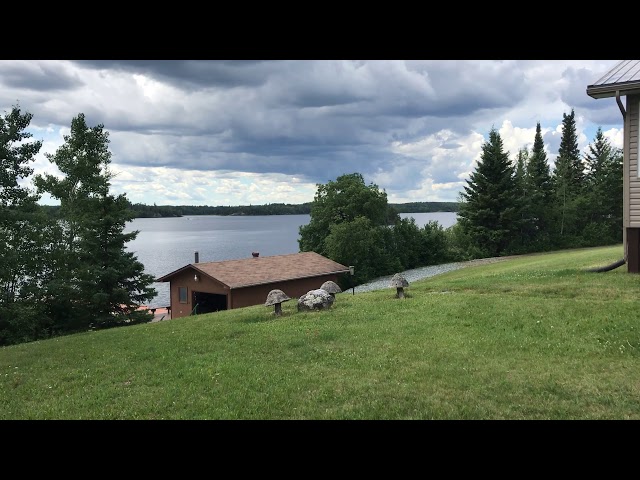 This is what you wake up to each morning. Experience the beautiful call of the loons!
The tranquility and beauty of the wilderness.
Windsock Lodge is a great get away for the avid fisherman/woman or a place to just kick back and relax.
Our cottages are clean and comfortable, We supply all clean linens, cooking utensils, microwaves, BBQ's, Bring your own food, fishing rods, and bath towels a and you are ready!
Fish Facts
Walleye Interesting Facts. Walleye are a member of the perch family (Percidae). The walleye is named for its pearlescent eye, which is caused by a reflective layer of pigment called the tapetum lucidum, that helps them see and feed at night or in murky water.

Please call or text us to book your wilderness experience!

/